Bering 145 "Expedition Yacht"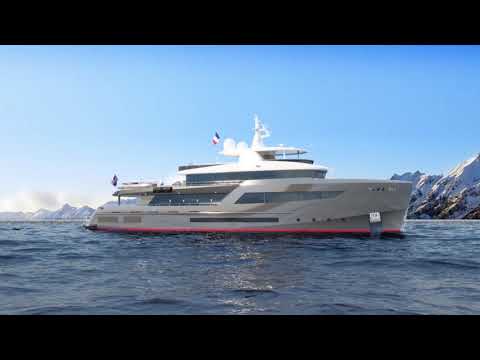 This 45-meter superyacht is the new flagship of the Bering Yachts fleet.This transoceanic model combines elegance, speed, and the latest technology. Bering 145 is a fully customized yacht. Designed by an in-house team of naval architects and engineers, it has a full displacement steel hull of 514 metric tons. The superyacht can be equipped with a hybrid propulsion system. The propeller is driven by electric motors charged by a bank of batteries. The banks are recharged by high-efficiency, variable speed DC generators.Docking and mooring is possible in the electric mode. On the main deck is a huge saloon with a dining area for 12 persons as well as a lounge area. The lower deck includes 32 square meters of storage space for equipment such as water toys and spare parts. The master stateroom is located on the main deck toward the bow with glass windows measuring more than 9.5 square meters. Additionally, there are five guest rooms. On the flybridge is a SPA zone, bar, and gas grill, among several luxurious amenities.
The Bering team looks forward to helping you design your own customized version of the Bering 145 so you can have the yacht of your dreams.
More...
Ref.nr:
SI1200653
Hull material:
Staal
Dimensions:
44.20m x 9.7m x 2.70m
Yard:
BERING NAVAL YATCILIK, TURKEY
Cruising speed:
Designer:
Bering design team
Year built:
2021
Flag:
Displacement:
385 Ton
VAT status:
VAT not paid
Engine:
2 x CAT C32 ACERT 895 bkW (1200 bhp) @ 1800 rpm
Price:
Please contact us us for detailed specifications and/or viewing appointment.
+34 931142172

Get the full specification
back to overview