Bering 65 "Expedition Yacht"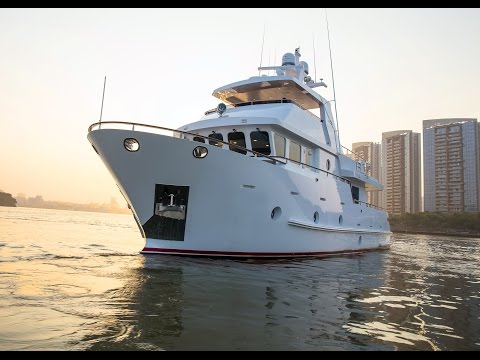 The Bering 65 is a rugged and classical looking steel yacht capable of any ocean crossing. She is quite, strong and leaves a graceful wake underway. Her displacement is about 235,000 pounds (106 tons) and with 4,500 gallons (17,000 liters) of fuel you can easily cruise for thousands of miles burning a combined 8 gallons (30 liters) an hour at 8 knots.

Her interior is lavishly crafted with beautiful woodwork and a variety of counter, flooring and upholstery selections.
The saloon features built-in seating on both sides with a large dinette to starboard. An entertainment center forward of the settees contains a large flat screen TV surrounded by hand finished woods of your choosing. Large double opening doors aft can be opened when maximum ventilation is desired or when entertaining large groups. A staircase forward leads to the lower staterooms.
More...
Ref.nr:
SI161240
Hull material:
Staal
Dimensions:
19.78m x 6m x 1.85m
Yard:
Bering Yachts
Cruising speed:
8 kts
Designer:
Bering Design Team
Year built:
2020
Flag:
Displacement:
83,1 tons
VAT status:
VAT not paid
Engine:
2 Cummins QSL - 9 2 x 285HP
Price:
Please contact us us for detailed specifications and/or viewing appointment.
+34 931142172

Get the full specification
back to overview